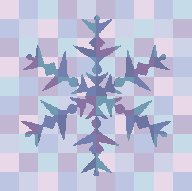 The snowflake seemed an appropriate partner to my first newsletter of 2015.  It has been a very cold winter here in New England and we are bracing for one of those old-fashioned monster snowstorms that we remember so fondly from our childhoods.  But tonight it is all about contingency plans to insure continuity of care for our patients who depend on us to facilitate a recovery that can't afford a "snow day".
The treatment of an acquired oral-verbal apraxia often challenges the most experienced and knowledgeable therapist.  Those painful early days when the patient struggles to claim the simplest oral motor movement or cued vocalization, and our certainty that the remediation process will be slow and laborious.  My approach to the treatment of acquired apraxia is straightforward and functional:  stabilize a verbal or non-verbal yes/no response, identify and create a series of oral motor, vocal and/or verbal activities that can be easily replicated by a non-clinical family member, friend etc. and start thinking about a daily home program on day one.  To that end, I would like to share some ideas and resources that I rely upon on a regular basis.
At a recent used book sale, I came upon a manual for a Phonics class and was pleasantly reminded how the principles of phonics have a direct application to apraxia training.  A particular ah-ha moment occurred when I saw the chapter illustrating how a root word approach can assist with reading acquisition.  I have used this approach during apraxia training for many years and that chapter has given me enough root words to use until my retirement!  In essence, the only sound that changes is the initial sound as the remainder of the word (the root) always remains the same.  Anecdotally, this mirrors the apraxic patient's greatest challenge – producing the initial sound in a target word.  We have all seen it happen – if they can say the initial sound the remainder of the word often follows.  This type of activity allows the person to practice those transitional oral motor movements that are essential to motor speech.
I currently have an Apraxia folder on my iPad and would like to share a few of my "go to" apps:
Sing! by Smule.  The free songs are very familiar and contain lyrics that are repetitive in nature.
Pandora.  You can create playlists that incorporate a genre that is of interest and familiar to the patient (hymns, country music, broadway show tunes, christmas carols etc).
Lingraphica Small Talk Phonemes.  Visual and auditory demonstration of isolated consonant and vowel sounds.
Lingraphica Small Talk Oral Motor.  Visual demonstration and auditory instruction of isolated oral motor movements.
Animal Sounds.  For early stage vocalization.
Phonics Genius.  Word groups organized by a common initial, medial or final sound; including both consonant and vowel root sounds.
howjsay ($$).  My latest discovery and frequently used app.  You type in a word that will act as a starter or carrier phrase and the app produces a list of short phrases that begin with that same  word eg. good night, good bye, good morning, good luck, good for you, good man.
iBeat.  Your very own metronome for pacing activities.
I cannot say enough about the necessity of creating a daily home program and caregiver training on day one.  The re-development of a neural speech pathway (or any pathway for that matter) requires repetition that can only be functionally attained through daily practice.
"Although much has been taken, much abides"  ~  Alfred Lord Tennyson
Thanks for reading, Gina